CUSTOMER SERVICE
– We offer the best customer service In Norway
Anton Sport may not be among the biggest players in the sporting goods industry, but they continue to make their mark through continuous growth in revenue and results. Owner Morten Borgersen states that the explanation for this is down to the fact that they are the best at customer service.
Morten Borgersen has been in the sporting goods industry for 32 years. The past few years have seen rises and falls across the industry, and in those years with poor winters, the biggest chains have seen a stark decrease in revenue.
– We, however, have seen growth in our top and bottom lines every year since 2015, Borgersen tells Retailmagasinet.
Since 2015, all indicators are pointing up for Anton Sport. They have seen year on year all-time highs in revenue, results, and ambassador grades. On 20 November, the chain hit 700 million in revenue, and since 2016 they have had operating results between 17 and 30 million.
They have seen revenue grow by 70% since 2017, or 50% compared with direct competitors which clearly exceeds the industry average.
The considerable profits have all been used on new stores and upgrading their existing brick and mortar estate.
– We reinvest everything into developing the chain further. We will have perfect stores, the most perfect in Europe, Borgersen boldly states.
High ambitions
Anton Sport focuses not only on developing their store estate, but also on their employees. As early as 2012, they began using the Maze customer feedback and everyday training tool.
Maze helps Anton Sport receive continuous feedback from customers who have visited their stores. The customers receive six questions covering various topics i.e. their greeting in the store and whether the customer interaction had a pleasant conclusion. After which a total score is calculated and converted into an ambassador grade.
– We are really good at service. Many years of hard work on customer service bears fruit, Borgersen states happily.
He believes they have a head start on their competitors.
Anton Sports ambassador grade has gone from 60% to 85%, which is one of the highest in Norwegian retail.
Borgersen is still striving for further improvement, and his ambition is to bring this important KPI all the way to 90%. This is a highly ambitious goal, particularly as the sporting goods industry places higher demands on expert knowledge than many other retail industries.
Diligently used tool
Anton Sport annually receives 30,000 responses from customers through Maze.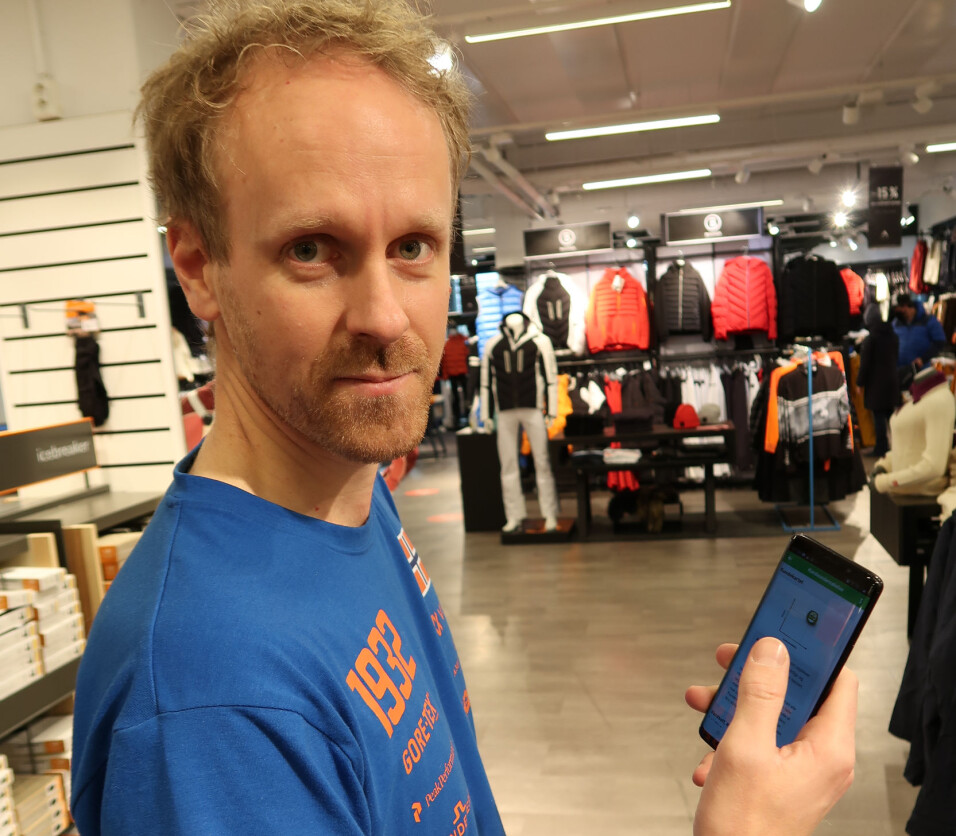 – I read every single one, says the Anton Sport boss.
He notes that it is important that the entire organisation uses the tool, from top to bottom. No other chain has such a large portion of its employees using Maze actively as Anton Sport, Borgersen claims.
All employees use the app.
– It's used diligently. We see that some of us use it during the weekend too, which shows how dedicated our employees are. They are sincerely upset every time a red face appears in the app, says Borgersen with a smile.
There is a separate notification for red faces, which represent dissatisfied customers. Borgersen says that this luckily does not happen too often, and that they contact the customer when it does.
– I like working in an industry where you see immediate results when you implement measures. It's fascinating to see how even small changes to the behaviour of the salespeople have a positive effect. It affects the ambassador grade, which is calculated in Maze, says the Anton Sport boss. As a concrete example, he mentions that they are 20% better at determining needs in the past nine months.
The purpose is development
Morten Borgersen believes that there was a turning point when they started using the tool. Since then, they have received hard facts on the customer service level through concrete feedback from customers. Before then, things were mostly based on assumptions.
– We had an assumption that we were alright on service, but we want facts. We have them now, says Borgersen.
He emphasises that Maze is not used to reprimand or punish anyone.
– We're like a big family, and we have a winning mentality. It's not fun to be the store with the lowest ambassador grade. But the only goal is development. We want to find the squeaky wheel and do something about it, says Morten Borgersen.
Not the biggest, but the best
Anton Sport has 400 employees and belongs to the Sport1 chain. The parent company Mobo Holding is 70% owned by Bjørn Rune Gjelsten and 20% owned by Morten Borgersen. In 2015, Sport1 bought in. The chain consists of 16 Anton Sport stores, as well as Milsluker'n (which was purchased last year) and two Sportsnett stores. All the stores are located in the greater Oslo area.

Morten Borgersen believes that Northern Europe's coolest outdoor store is Sportsnett at CC Vest, which has a bouldering wall and a wind tunnel where customers can test their products.

The goal is not to be the biggest in the industry.

– But we will be the best, and we will make Europe's coolest sports chain, Borgersen says.

Seamless interplay between the store and online, customer service, customer club and loyalty are the key. They have 200,000 members in their customer club.

Rising competition from online shopping doesn't keep Morten Borgersen up at night.

– We're less exposed. Our customers want quality, service and new products. We sell high-end, quality goods that customers want to see and try before they buy. Since we also have such good customer service, we stave off online shopping.

They emphasise offering the customer the right product, not boosting revenue as much as possible. That makes for loyal customers.

– Anton Sport has the highest customer loyalty in the industry. We have documentation on that from our suppliers, says Morten Borgersen.